Finished Garage Wall Panels
EverLast Garage Panels provide the perfect finished appearance for your garage
See how EverLast Garage Panels can transform your garage!
Is you garage damaged from years of use? Is it too cold when you try to use it during the winter? If these problems sound familiar, EverLast Garage Wall Panels are the solution you need. Everlast panels are a durable solution that's designed to last in a garage while providing a bright and beautiful finished appearance.
EverLast Garage Wall Panels provide everything you need to have a more durable and attractive garage. If you're interested in upgrading your garage walls, contact your local Total Basement Finishing dealer to get started with a free installation estimate!
The Benefits of EverLast Garage Panels
Durability: EverLast Garage Wall Panels are made from a tough cement board that contains no organic material, meaning the boards are difficult to dent and won't ever support mold growth.
Appearance: Unlike drywall, Everlast Garage Panels are finished with a clean vinyl surface that's easily washable, allowing you to even hose your garage walls down if you want!
Insulation (optional): Garage insulation can have a major impact on your home's comfort and efficiency. EverLast Panels help to create a more comfortable space in the garage while helping to improve your home's overall energy efficiency.
The EverLast Garage Finishing System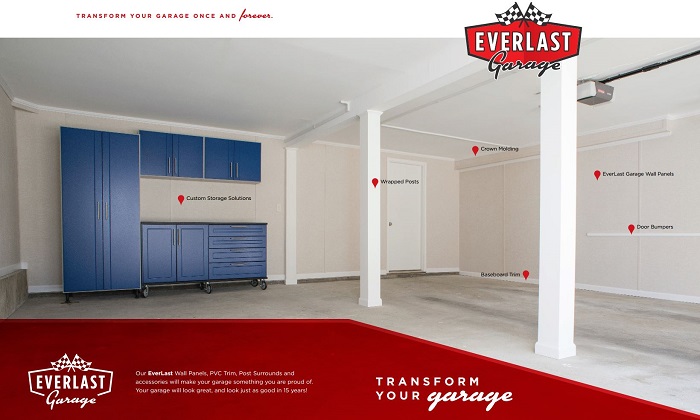 The Everlast Garage Finishing System provides a complete solution that includes storage, finishing touches, optional insulation and more (click to enlarge).
Additional Features include Crown Molding, Door Bumpers, Baseboard Trim, Wrapped Posts, Custom Storage Solutions, and more!
Upgrade your garage with EverLast Wall Panels today
If you're looking for a long lasting solution for your garage walls, EverLast Garage Wall Panels from Total Basement Finishing are the solution you need. These panels provide everything you need for your garage, including durability, optional insulation, and a great finished appearance. Contact your local Total Basement Finishing dealer to get started with a free estimate!
Looking for a price? Get a no cost, no obligation free estimate.