About Total Basement Finishing
The experts at Total Basement Finishing (TBF) strive to uphold the values of quality, responsibility, and integrity. Our staff, product and dealer network are all founded on our belief in these ideas.
Our success lies within our dedication to quality, responsibility and integrity - to doing the right thing at all times. Our focus is on both the personal and professional growth of our people and our dealer's people. Our monthly training for installation and production, business and system procedure development, management training and all other functions of our company are hosted directly at our headquarters in Seymour, Connecticut. We personally make sure that all our basement finishing and remodeling contractors are the best in the world!
Total Basement Finishing is a division of Basement Systems, Inc., the world leader in dry basement technology. This is a perfect fit. Basements are cold and damp places, and many get wet. Not only is the TBF basement remodeling system designed with these factors in mind, but also with the priority of being environmentally friendly, and promoting energy efficiency.
About Us | Total Basement Finishing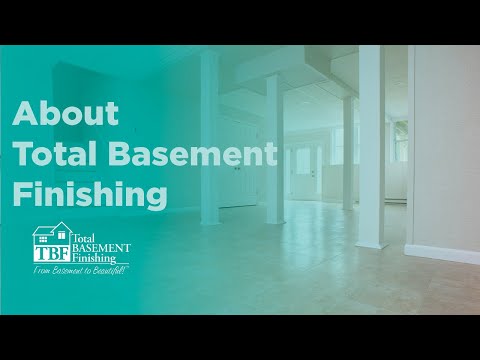 About Us | Total Basement Finishing
Total Basement Finishing is a division of Basement Systems Inc., providing innovative basement solutions to... Watch Video »
Trust the basement experts to do the right thing in your basement, protect your investment, and design a beautiful new living space in your home!
About the Owner
Larry Janesky started out as a 17-year-old self-employed carpenter. After building over 20 homes, he spent the next two decades building Basement Systems into an industry-leading company specializing in basement waterproofing and crawl space repair.
Having a dry basement is nice, but not as nice as having a beautiful basement finished with waterproof materials. Total Basement Finishing is Larry's solution to finishing basements without using organic materials.
Today Basement Systems has over 300 dealers in 6 countries. Larry's interest in building efficiency has lead him to write 3 books - Dry Basement Science, Crawl Space Science, and Basement Finishing Science, and develop an exclusive line of products protected with more than 30 patents.
Our National Headquarters
It has been said that a homeowner will be a reflection of their home. We believe the same is true in business. Total Basement Finishing has invested in a proper home - a 92,000 square-foot facility. It has everything we need to help our Total Basement Finishing dealers help their customers best - an International Customer Service Center, Production, Sales and Product Dispatch Departments, a Basement Finishing Training Center, a Research & Development Area, and our Administrative Departments. From this location, we work closely with our dealers throughout the country. Total Basement Finishing's sister company is Basement Systems - the world's leading and largest network of basement waterproofing contractors, with 24 patents and 115 dealers in 6 countries.
We always encourage visits to our facility by our customers. We would love for you to be a guest in our home!