Basement Wall Finishing Systems
When most people think of Finished Basements - they picture traditional drywall and fiberglass insulation with wood trim. You may like the look, but what happens when you inevitably get water or moisture in your basement?
If you've had water in your finished basement - even once - you know that traditional drywall simply does not survive a wet basement. The expense, mess (and smell) of removing moldy drywall is not something you'd like to do even once.
We'd like to challenge that traditional thinking with a better, longer lasting option. Waterproof! It's smart to use basement walls that will not support the growth of mold and mildew. That's where the Total Basement Finishing (TBF) wall solutions excel.
Our entire product line of wall solutions has been designed from inorganic materials that are water resistant and do not support mold growth. Because of this, the Total Basement Finishing system will look like new far into the future. Depending on your specific needs, the following products will transform your below-grade space. Best of all, you'll only have to do it once. Contact your local dealer and schedule a free estimate today!
Options for your Basement:
A Warm and Waterproof Finished Basement
We recommend:
Fully insulate and finish your basement with EverLast® Basement Wall Panels with SilverGlo® insulation and radiant barrier. Because they include insulation and radiant barrier, they are ideal for exterior walls.
Create interior walls in your basement for bathrooms, offices, utility closets, and more.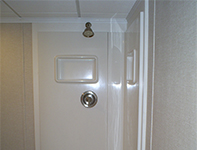 We recommend:
EverLast™ partition wall panels are available with finished faces on both sides for internal walls. They are available with or without insulation - depending on placement of the walls.
A finished look for basement utility areas such as your laundry room or storage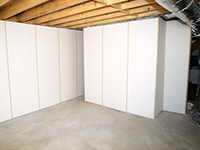 We recommend:
ZenWall® panels have the clean, bright look of the EverLast™ panels with a lower level of insulation. They are a great solution for spaces that will not be frequently used.
Brighten up your unfinished basement with a semi-finished look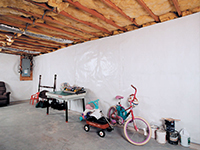 We recommend:
BrightWall® panels allow any moisture or leakage to drain behind them to the perimeter and stops water vapor from entering through the walls. It's an easy way to brighten your unfinished basement space.
Replace damaged drywall in your finished basement due to water damage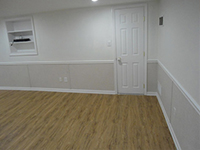 We recommend:
Our EverLast™ half panel is ideal for restoration situations. If your basement has had water damage, we replace the bottom section of damaged drywall and insulation with our waterproof EverLast™ panels. Vinyl molding and chair rail tie it together with the existing drywall.
Insulate and frame to prepare your foundation walls for finishing
We recommend:
Basement-to-Beautiful® wall panels insulate and frame your basement's ugly, cold, damp exterior foundation walls, preparing them for your finishing option of choice, such as the ZenWall® or BrightWall® panels
Here are some noteworthy advantages of this wall system:
Quick, efficient installation, since wall panels include insulation, wallboard and finished wall surface. Battens with a matching surface finish snap in place between panels, eliminating the need for taping and finishing joints. This design also simplifies panel removal.
No painting is required; walls are finished as soon as they're installed.
Electrical outlets are easy to incorporate.
The vinyl surface is attractive, stain-resistant and easy to clean.
Panels can't be damaged by moisture and won't support mold and mildew growth.
Unlike fiberglass batt insulation, rigid foam insulation will not absorb moisture, settle, or compress over time.
A TBF wall is much stronger than drywall construction; a single panel can support up to 300lbs.
Framing is eliminated; no wood or metal studs are required.
A TBF wall has an R-13 rating and is more energy efficient than a wall built with studs and insulated with fiberglass batts.
TBF panels are available with finished faces on both sides, for use as partition walls.
Plastic baseboard and crown molding used to trim out walls is 100% waterproof and won't support mold.
If you are looking for a solution to repair moisture-damaged drywall in your basement, our EverLast™ Finished Wall Restoration System might be the answer!
Check out our basement finishing system section to learn about other innovative products. For a free basement remodeling estimate, call or contact us today!
Looking for a price? Get a no cost, no obligation free estimate.