Total Basement Finishing: Why We're The Best!
Beautiful Finished Basement Walls, Floors, Ceilings, Windows & More!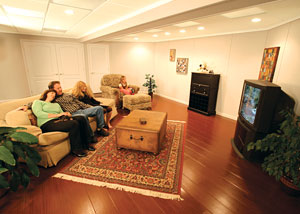 Our patented basement finishing products have won several awards for their quality and innovation!
Our products are warrantied, waterproof, and designed specifically to address the unique challenges that basement environment creates for remodelers.
Total Basement Finishing has the warrantied products and professional installations you need to transform your basement into dry, beautiful, useful space.
We specialize in energy efficient, durable, waterproof products that can be customized to match nearly any finished space you can imagine!
Our Basement Finishing System Includes:
Insulated, Waterproof Basement Walls
A Wide Variety Of Basement Flooring Options
No-Sag Basement Ceiling Tiles
Energy-Star-Rated Dehumidifiers
Written Warranties
Fast, Professional Installation
A complete installation of our finished basement system can usually be completed in less than ten days -- and includes a warranty that's measured in decades!
Why Are You Called TOTAL Basement Finishing?
Some companies only provide finished walls -- and call it a "basement finishing system". If other work is planned, it may be outsourced to other contractors. But don't you want ONE company who can do it all?
At Total Basement Finishing, we have specialized products for the ENTIRE basement -- including the floors, ceilings, basement windows, and more! We'll gladly install durable wall partitions, egress windows, and any other customized work you'd like to see! We do it all -- there's no need to outsource to another contractor!
Call or e-mail us today for a free Basement Finishing Quote!
Highlights Of Our Basement Finishing System
Our versatile system can be used for long-lasting, beautiful results for any kind of basement finishing project. Whether you want to design a new living room, spare bedroom, basement bar, home theater, basement gym, or almost anything else you can imagine, we're ready to help you!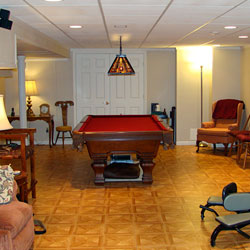 Quality, warrantied Products
Our EverLast™ Basement Wall System includes a 50-year warranty that covers damage from mold, moisture, and flooding.
Similarly, our basement ceiling tiles include a 30-year warranty against mold and mildew growth, as well as sagging in the center. Each of our nine basement flooring options also include a full written warranty, ensuring quality products and results for your home.
What other system can offer you this kind of insurance that your basement will stay beautiful and valuable for so long?
Learn more about our Basement Finishing Products
---
A Versatile Finishing System
Whether you're interested in building a home theater, a spare bedroom, a basement bar, or anything else you can imagine, our system has the versatility to make your plan a reality.
Our durable, strong basement wall system allows even the weight of a plasma TV to be mounted at any point -- without the need to cut walls and insulation, and without the need to locate a wall stud.
We've finished thousands of basements across North America -- each with its own unique look!
Browse our Finished Basement Photo Gallery
---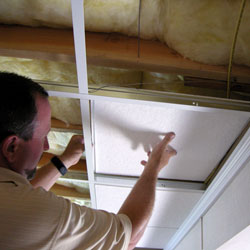 Professionally Trained & Certified Installers
Each Total Basement Finishing Dealer is certified and trained at our International Headquarters in Seymour, Connecticut, and has exclusive access to our products and services within their territory.
We choose our dealers carefully from the most reputable and reliable contractors from each area. We provide ongoing training camps, installation videos, and a full arsenal of other materials to each dealer to ensure they're up to date on the best practices within the industry. You'll love the courtesy, competency, and professionalism of our experts!
Find out What To Expect From Us
Basement Finishing Products We Do NOT Recommend
The Total Basement Finishing System has been designed by both waterproofers and remodelers in the basement industries, and they're designed to look great and resist damage from moisture and flooding.
There's a lot of other basement finishing systems out there! To date, we haven't seen another system that holds up to the potential issues of a basement quite as well as ours. With that in mind, here's a few basement finishing products that we do NOT recommend: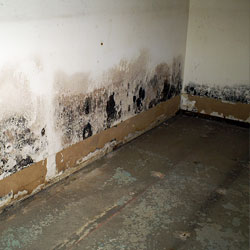 Drywall & Wood Studs
Many homeowners install drywall in a basement because it's inexpensive and can easily make their finished basement match the design of the rest of their home. Unfortunately, drywall (even mold-resistant "greenboard" drywall) is not designed to last in a potentially humid or wet space.
If exposed to prolonged humidity, drywall will grow mold and mildew, and increase the number of allergens in your home. At first, this mold growth may be behind the wallboard, affecting your health while remaining invisible to the naked eye.
If there's a flood, all wet drywall will need to be replaced entirely, as it will quickly disintegrate and grow mold.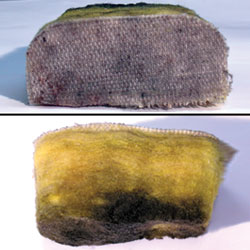 Fiberglass & Fabric Walls
Basement wall systems made out of fiberglass, metal studs, and a fabric cover have many weaknesses that the companies that sell them would rather you didn't know about.
During a flood, these wall panels soak up moisture like a sponge, in many scenarios being completely ruined. And despite "mold-resistant' claims, they can certainly grow mold!
These panels will also collect fingerprints and stains over time, and are very difficult to remove.
And the metal of their frames conducts heat straight out of your basement, severely compromising their insular value.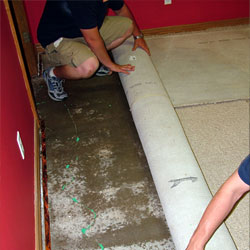 Organic Basement Carpet On Concrete
Moisture rises up continually through the pores of concrete from the damp earth around them in the form of water vapor. Even if your basement floor looks completely dry, this remains true.
If a carpet is placed directly on the concrete floor, this moisture will be trapped underneath, building up and leading to a potential mold issue.
This also rings true if the subfloor is made of organic material such as wood, plywood, or chipboard tiles.
We recommend either finishing the basement floor with inorganic materials or creating an inorganic vapor barrier on your basement floor that will protect it from water vapor from the concrete slab.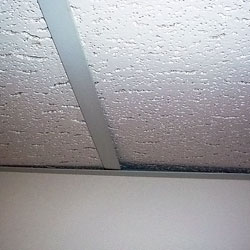 Generic Drop Ceiling Tiles
Generic drop ceiling tiles can give a finished basement an industrial look. They tend to sag in the middle over time, and their 90-degree edges give the basement a very cold, office-like feeling.
At Total Basement Finishing, our ceiling tiles have a premium, warm look that makes any finished basement look fantastic.
We include a 30-year warranty against the growth of mold and mildew, as well as against sagging.
When remodeling, it's the little finishing touches that can make all the difference. Our drop ceilings also include a crown molding around the edges -- making for a warm, inviting look.
Single-Paned, Steel Basement Windows
Basement windows are designed to maximize the amount of natural sunlight into your basement -- making it feel more like part of your home and less like an underground bunker.
If those windows are rusted shut and drafty, they're not doing the job they were intended for. And to make matters worse, they're also costing you a bundle on your energy bills!
Our basement windows include two panes of Low-E glass, and an energy efficient vinyl frame that will never rust in place, rot, or need painting.
Combined with our covered basement window wells, and your space will look better than ever!
We Can Provide You With A Long-Lasting, Beautiful Basement Remodeling!
The Total Basement Finishing System installs in your home quickly -- usually in ten days or less. Once installed, you're ready to enjoy a permanent upgrade in your home that will stay looking great for decades to come! Finishing your basement can be done at half the cost of adding an addition on to your home, and with no loss of space in your yard!
Invest in a comfortable, energy efficient basement today! Your local Total Basement Finishing Dealer is standing by to provide you with a free basement finishing quote! We serve throughout North America, with a locally owned and operated dealer in your neighborhood.
Each quote comes at no obligation to you and includes an on-site inspection, customized remodeling plan, and written cost quote! We'll also send you a complimentary copy of our full-color basement finishing book, highlighting our products and how they can help you!
Looking for a price? Get a no cost, no obligation free estimate.